As the holiday season approaches, finding the perfect gift for your family and friends can be a challenge. But have you considered steak gifts for Christmas? These delicious and gourmet presents are a fantastic way to show your love and appreciation to the meat lovers in your life.
Steak gifts come in a variety of options, from gift cards to curated boxes featuring prime cuts of meat. They can make a memorable present for the holidays, bringing family members together for a delicious meal and great conversation. So, as you plan your Christmas shopping this year, don't forget to explore the world of steak gifts, and give your loved ones something truly special and indulgent.
Understanding Steak Gifts
Choosing the perfect steak gifts for Christmas can be an enjoyable task when you're familiar with the various aspects of what makes an outstanding steak experience. In this section, we will explore different factors to consider, such as beef grades, cuts of steak, and techniques like dry-aging and marbling.
When selecting a gift, it's essential to understand the quality levels of beef. The United States Department of Agriculture (USDA) classifies the quality of beef into different grades, with USDA Prime and USDA Choice being the top two. USDA Prime steaks are known for their marbling, tenderness, and flavor, making them perfect for a special gift. On the other hand, USDA Choice steaks are still high-quality but offer slightly less marbling and tenderness.
Next, you should explore the various cuts of steak available. Popular options include filet mignon, porterhouse, ribeye, New York strip, and more. Each cut offers a unique blend of flavor, tenderness, and texture. For instance, filet mignon is renowned for its tenderness, while ribeye steaks are recognized for their rich flavor. Additionally, some specialty cuts like Wagyu and Black Angus are highly prized for their unrivaled taste and quality, making them ideal for a luxurious steak gift.
Another factor to consider in selecting a steak gift is the difference between dry-aged and wet-aged beef. Dry-aged steaks are aged in a humidity-controlled environment, allowing the meat's natural enzymes to break down the muscle tissue, enhancing the flavor. Conversely, wet-aged steaks are aged in vacuum-sealed packaging to retain the moisture, resulting in a more tender and juicy experience.
Finally, the importance of marbling – the distribution of fat within the meat – cannot be overstated. Proper marbling contributes to the flavor, tenderness, and overall quality of the steak. When choosing your steak gifts, look for steaks with an even distribution of marbling throughout.
When it comes to buying steak gifts for Christmas, consider these pro tips to ensure you choose the best gift:

Know Their Preferences: Find out what type of steak your recipient prefers. Some people love the tenderness of filet mignon, while others enjoy the rich flavor of ribeye or the marbling of a New York strip.
Consider the Source: Look for high-quality steaks from reputable sources. Online meat delivery services and local butcher shops often offer premium cuts that are well-aged and carefully sourced.
Check for Packaging: Ensure the steaks are packaged properly to maintain freshness. Vacuum-sealed or individually wrapped steaks are ideal for preserving flavor and preventing freezer burn.
Top Steak Gift Companies
Finding the perfect steak gifts for Christmas can be quite a challenge, but we're here to help. In this section, we'll introduce you to some of the top steak gift companies that provide the highest quality steaks for your loved ones during the holiday season.
Chicago Steak Company
The Chicago Steak Company is known for offering high-quality USDA Prime and USDA Choice steaks. They specialize in dry-aging their steaks for optimal flavor and tenderness, making them an excellent choice for a special gift. With a variety of cuts and gift packages available, you're sure to find the perfect present for the steak lover in your life.
Snake River Farms
Specializing in both American Wagyu and Japanese Wagyu, Snake River Farms offers hormone-free, top-quality beef that's perfect for a premium gift. Their Wagyu steaks are known for their incredible marbling, making them tender and full of flavor. Snake River Farms provides an excellent selection of gift box options catering to every taste.
Kansas City Steak Company
With a focus on Black Angus beef, the Kansas City Steak Company is known for its high-quality steaks available in a variety of cuts. Their steak gift boxes make for thoughtful gifts that will impress any steak lover. With a wide selection of options, you can choose the perfect assortment to cater to your loved one's taste buds.
Allen Brothers
Offering prime steaks, Allen Brothers is a top choice for hand-selected and hand-carved cuts of USDA Prime beef. Their commitment to quality means you'll be gifting a truly exceptional steak experience. Alongside their prime steaks, they also offer a range of other meat gift options, so you'll find something suitable for everyone.
44 Farms
As a great option for beef jerky lovers, 44 Farms produces high-quality, hand-selected beef that comes straight from their ranch. Their beef jerky gift packages are unique and delicious, making them an excellent choice for those seeking something a little different. With a variety of flavors and selections to choose from, you'll find the perfect gift to delight your loved ones.
Exploring Different Steak Gifts
Searching for the perfect steak gifts for Christmas to impress your family or friends who are meat lovers? You've come to the right place! Here we'll dive into four popular gift ideas that are sure to make any foodie's celebration flavorful and juicy.
Steak Samplers
A steak sampler is an excellent way to introduce a variety of cuts and flavors to the steak lover in your life. These curated gift sets often include high-quality meats such as USDA Prime Filet Mignon, Ribeye, and Tenderloin. Allowing you and your loved ones to indulge in a delightful steakhouse experience at home. No matter if they live in NJ, FL, or across the nation, a good steak sampler will make their Christmas feast incredible.
Subscription Boxes
What's better than a one-time gift of scrumptious steaks? A monthly surprise! Consider gifting a steak subscription box to the gourmet food enthusiast in your circle. These boxes contain a selection of premium cuts, delivered fresh to their doorstep. With a steak subscription, your friends and family can enjoy a delightful and flavorful culinary journey, with new cuts to explore each month.
Gift Certificates
A more flexible option for those who appreciate choice, a gift certificate to a reputable online butcher or steakhouse can be the perfect solution. This lets your loved one select the cuts they enjoy most, try out new ones, or even save it for a special occasion. With this option, you give them the freedom to indulge in their steak passions according to their preferences and schedule.
Customized Steak Gifts
Want to get truly personal? Customized steak gifts are an exciting way to show your appreciation for the steak lover in your life. You can tailor the gift according to their taste buds by selecting specific cuts, seasonings, and accompanying gourmet food items. This way, you create a one-of-a-kind present that caters to their unique palate preferences. They'll savor the thoughtful and delicious gesture.
Delight the steak lovers in your life this Christmas with these exceptional gift ideas. Whether it's a sampler, subscription box, gift certificate, or customized treat, they'll appreciate the delectable, mouth-watering present, and enjoy the ultimate steakhouse experience at home.
Tips for Buying Steak Gifts for Christmas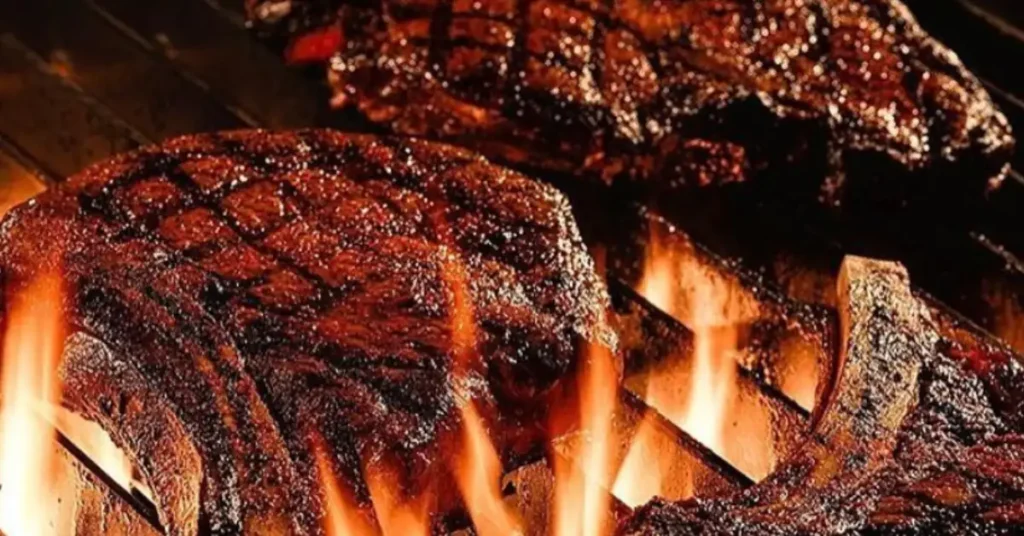 Are you looking for the perfect steak gifts for Christmas? We've got you covered with these helpful tips for finding the best meat gifts for the steak enthusiasts in your life. Just follow these simple guidelines, and you'll be on your way to giving a high-quality, delicious present.
Consider the Flavor Preferences: Different people have different tastes when it comes to steak. Some enjoy the rich, bold flavor of a heavily marbled ribeye, while others might prefer the leaner cut of a filet mignon. Keep in mind the recipient's personal preferences when selecting your steak gift.
Choose High-Quality Meat: Grade is important when it comes to selecting quality steaks. Look for USDA Prime or USDA Choice, as they represent the top tier of meat grades in terms of tenderness, juiciness, and flavor.
Standard vs. Overnight Shipping: When ordering steak gifts, ensure they arrive fresh and in optimal condition. Most companies offer standard shipping with ice packs and insulation, which can suffice for short distances. However, if your intended recipient lives far away or you're looking to impress, consider upgrading to overnight shipping to ensure the steaks remain as fresh as possible.
Consider Adding Extra Items: To make your steak gift even more special, consider adding other products related to grilling or steak preparation. Items like quality steak knives, seasoning rubs, or gourmet sauces can elevate your gift, providing the recipient with everything they need for a memorable meal.
My Personal Opinion
In my opinion, Christmas is a time for indulgence and celebration. It's a moment to gather with loved ones and savor the finer things in life. That's why when it comes to gifts, I believe in choosing something that truly delights the senses. Steak gifts for Christmas are a fantastic choice for those who appreciate the rich, savory flavors of a perfectly cooked steak.
The joy of receiving a high-quality cut of beef, expertly aged and seasoned, is unparalleled. Whether it's a juicy ribeye, a tender filet mignon, or a flavorful New York strip, a steak gift is sure to make any meat lover's holiday season memorable. So, in my view, when searching for that ideal Christmas gift, consider the timeless pleasure of steak and the happiness it can bring to the table.
FAQ
Is steak a good gift?
If you want to brighten someone's transition into the New Year, meat gifts are the way to go. The Classic Prime Assortment will give your loved one plenty of choices, from ribeyes to top sirloins, and will fill up the fridge with plenty of steaks and burgers to enjoy for weeks to come.
What do most people eat with steak?
Matchstick chips
Shoestring fries
Sweet potato fries
Potatoes dauphinoise
Potato salad
Mashed potatoes
Baked skinny fries
Potato wedges
Why do men love steaks?
Usually, it's the men who eat more meat. And prior research has shown that meat is a masculine type of food. We extend that to show that it's not just a masculine food, it's also a high-status, displaying type of food.
What does steak do for men?
Red meat can be good for you, says Leslie Bonci, MPH, RD, a dietitian for the Pittsburgh Steelers. Lean cuts of beef and pork are packed with protein and have only a little more fat than chicken breast. Red meat is also a good source of leucine, an amino acid that helps build muscle.
If you liked this blog article about the topic: Steak Gifts for Christmas, don't forget to leave us a comment down below and follow us on Pinterest for the latest updates.