Planning a housewarming party soon? As a host, it's essential to consider the perfect return gifts for housewarming that will leave a lasting impression on your guests. These tokens of appreciation not only serve as a heartfelt thank you for their presence and support but also elevate the cheerful ambiance of your new home celebration.
Choosing the ideal return gifts for your housewarming can be a bit overwhelming with so many options available in the market. But worry not, as I'll share a few tips to help you find the right gifts that reflect your taste and fit well within your budget. Remember, it's the thought that counts, and showing your gratitude with a meaningful and useful gift will undoubtedly make your guests feel special.
So, without further ado, let's dive into the world of housewarming return gifts and explore some trendy and unique ideas that will leave your guests delighted and create cherished memories. And who knows, you might even discover a few must-have items to add to your own wish list for your cherished abode!
Popular Return Gifts for Housewarming
Are you looking for the perfect return gifts for housewarming to show your appreciation towards your guests? Don't worry, we have got you covered! In this section, we'll explore some popular options that range from traditional Indian gifts to practical household items and decorative pieces.
Traditional Indian Gifts
Indian culture is full of vibrant and beautiful traditions, and presenting traditional Indian return gifts for housewarming. Here are a few popular options:
Gold or Silver Plated Bowls: These elegant gold-silver plated lotus serving bowls make for a luxurious and memorable gift.
Brass Idols: Gifting brass idols of deities or spiritual figures like Buddha can bring positive energy to the recipient's home.
Handcrafted Pottery: Colorful, hand-painted earthenware is a symbol of rich Indian craftsmanship and can be a thoughtful gift for your guests.
Sari or Shawl: Consider presenting your guests with a beautifully designed sari or a luxurious shawl made from fine Indian fabrics.
Aromatic Incense Sets: Aromatic incense sets with various fragrances like sandalwood, jasmine, or rose can add a touch of tranquility and spirituality to any home.
Decorative Rangoli: Rangoli is a traditional Indian art form created using colored powders or flowers.
Practical Household Items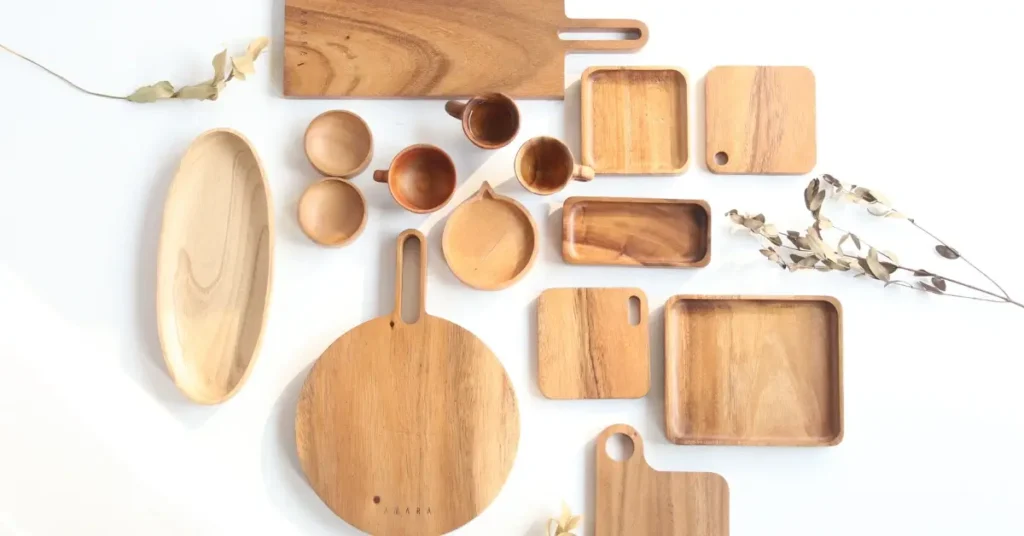 Giving useful household items is always appreciated and can make for great return gifts for housewarming. Some options include:
Aromatherapy Candles: Scented candles like the MONDAY MOOSE Aromatherapy Scented Candles Gift Setcan create a relaxing ambiance in any home.
Kitchen Tools: High-quality kitchen gadgets such as bottle openers, salt and pepper shakers, or cutting boards are practical gifts that your guests can regularly use.
Bed and Bath Linens: Consider gifting luxurious bed linens, such as high-thread-count sheets or soft, fluffy towels for the bath. These items add comfort and elegance to a new home.
Cookware Sets: Quality cookware sets, like non-stick frying pans or stainless steel pots, are excellent additions to any kitchen. They are both practical and stylish, making them appreciated gifts for new homeowners.
Decorative Pieces
Decorative items can add a personal touch to your guest's home and serve as a beautiful reminder of your event. Here are a few ideas:
Meditating Buddha Figurines: Small, gold meditating Buddha figurines are charming accents that can bring a sense of peace and serenity to any space.
Reed Diffusers: An Urban Naturals Lavender Vanilla Reed Diffuser Set offers a lovely and long-lasting home fragrance your guests will enjoy.
Hanging Wind Chimes: Beautifully crafted wind chimes can add a touch of melody to your guests' homes. Opt for designs that incorporate soothing sounds and artistic elements, such as colorful glass or metal chimes.
Hand-Painted Decorative Tiles: Hand-painted ceramic or porcelain tiles featuring intricate patterns, nature motifs, or traditional Indian art can be used as wall decor or coasters. They add a unique and artistic flair to any room.
Aromatic Candles: Scented candles in decorative holders or jars can enhance the ambiance of a home. Choose fragrances that promote relaxation, such as lavender, eucalyptus, or sandalwood. These candles can be both visually appealing and soothing.
Creative Return Gifts for Housewarming
Are you planning a memorable housewarming celebration and searching for the perfect return gifts for housewarming? From personalized items to eco-friendly gifts and DIY gift sets, these creative options cater to different tastes and budgets.
Personalized Items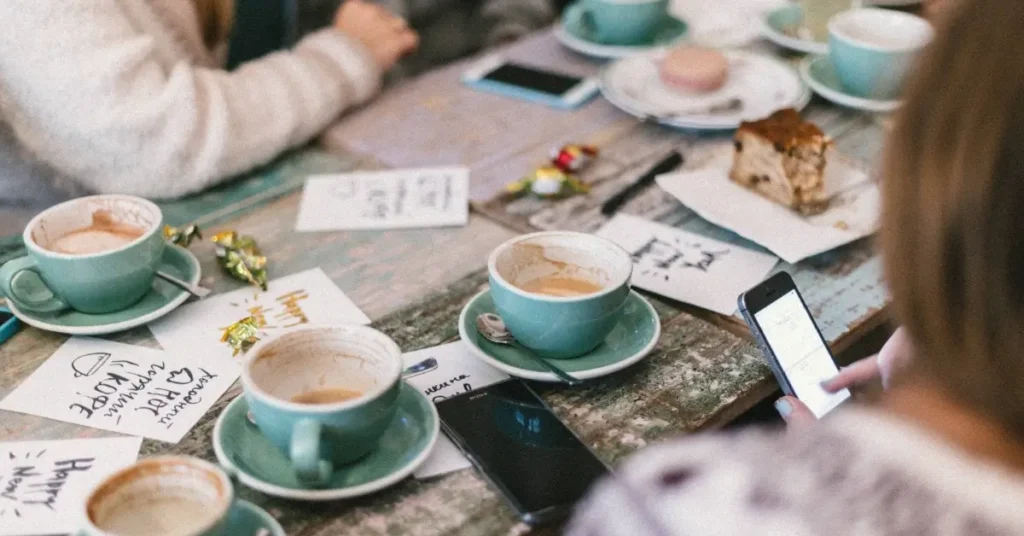 Nothing shows thoughtfulness like items customized just for your guests. Consider gifting:
Customized mugs with your guest's name or a special message that reminds them of your housewarming party.
Monogrammed towels or address stamps that your visitors can use in their own homes.
Personalized keepsakes, like engraved keychains or whiskey glasses, which make both functional and sentimental gifts.
Eco-Friendly Gifts
Help your guests embrace sustainable living with these eco-conscious gifts:
Reusable shopping bags or produce bags that reduce plastic waste.
Bamboo or stainless steel utensil sets for eco-friendly dining on-the-go.
Plantable seed paper, which allows your guests to grow flowers or herbs in their garden.
DIY Gift Sets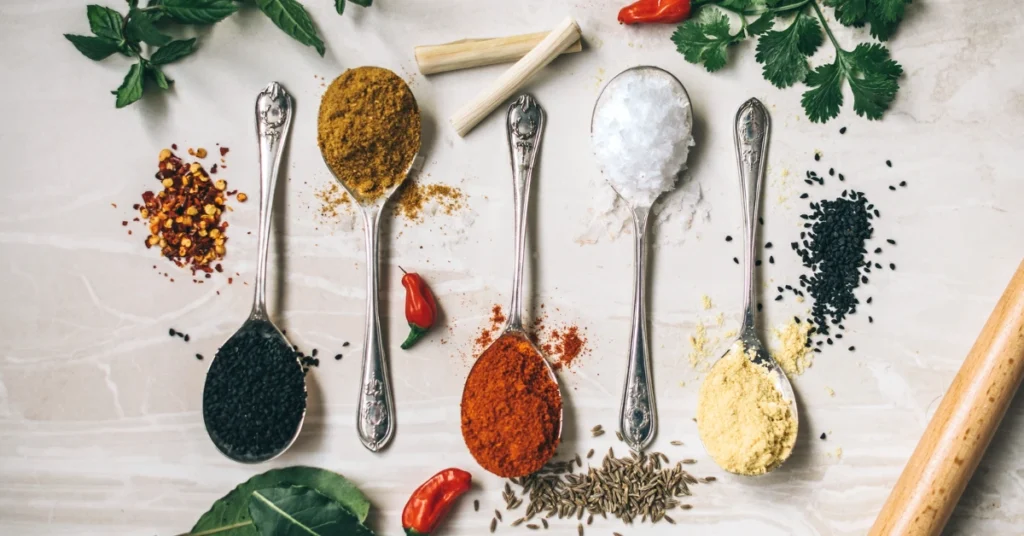 For a personal touch, create your own gift sets tailored to your guest's interests:
Assemble a collection of mini gourmet spices or cooking oils for the food lover in your circle.
Put together a self-care package with a selection of natural bath salts, soaps, and candles.
For gardening enthusiasts, create a set of seed packets or gardening tools to help them cultivate their green thumb.
Indian Return Gifts for Housewarming
Searching for the perfect return gifts for housewarming can be challenging, but with a touch of Indian tradition, you can make this process not only fun but also memorable for your guests. In this section, we'll explore some authentic Indian gift ideas, including handicrafts and sweets, to help you choose the ideal gifts for your housewarming celebration.
Handicrafts
India is known for its rich cultural heritage, and one way to offer a piece of this to your guests is with beautiful handicrafts. Consider gifting items such as decorative pottery cups, hand-embroidered bags, or even brass bowls embellished with gold or silver plating. These gifts are not only attractive but also hold sentimental value, making them ideal tokens of appreciation for your guests.
Pottery Cups: Handmade ceramic tea cups in vibrant colors can add a touch of elegance to your guests' homes.
Embroidered Bags: Traditional floral faux pearl strings and drawstring pouches are perfect for any occasion.
Gold and Silver-Plated Bowls: A plated brass bowl can be a stunning gift, symbolizing prosperity and good fortune.
Wooden Block-Printed Textiles: Consider gifting your guests beautifully handcrafted textiles, such as table runners, napkins, or cushion covers, featuring traditional Indian block printing.
Terracotta Diyas: Diyas are small clay lamps traditionally used in India for various ceremonies and festivals. Gifting beautifully hand-painted or intricately designed terracotta diyas can add a touch of spirituality and warmth to your guests' homes.
Miniature Paintings: Indian miniature paintings are known for their intricate details and vibrant colors. Consider gifting small-framed or unframed miniature paintings that depict scenes from Indian mythology, nature, or traditional motifs.
Indian Sweets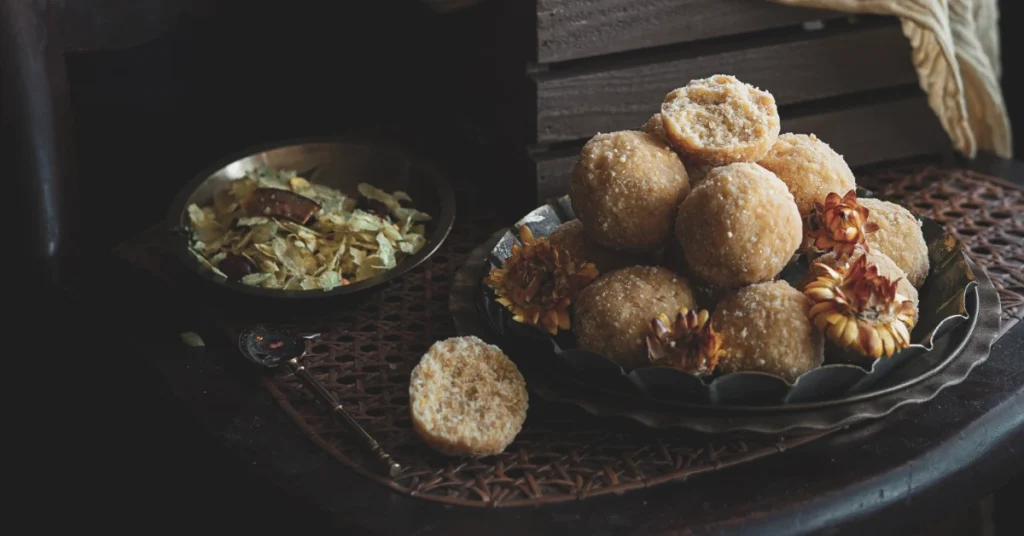 No Indian housewarming party is complete without delectable sweets, and they make excellent return gifts too. From rich, creamy ladoos to scrumptious kaju katli, the possibilities are endless.
Ladoos: Made from gram flour, sugar, and ghee, these round delicacies are a traditional favorite. You can also opt for other varieties, like besan or coconut ladoos.
Kaju Katli: This cashew-based sweet is not only mouthwatering but also comes in beautiful packaging, making it a perfect return gift.
Assorted Sweet Boxes: For those who want variety, consider a mix of Indian sweets like motichoor ladoos, soan papdi, and rasgullas, presented in attractive gift boxes.
Gulab Jamun: These soft, syrup-soaked dumplings made from milk solids are a beloved dessert in India. They have a sweet, melt-in-the-mouth texture that's sure to please everyone's taste buds.
Rasmalai: Rasmalai is a rich and creamy Bengali dessert made from soft paneer (Indian cottage cheese) balls soaked in sweet, saffron-infused milk. It's a decadent and aromatic sweet treat that's bound to be appreciated.
Mithai Platter: Create a beautiful mithai (sweet) platter that includes an assortment of popular Indian sweets such as jalebi, barfi, and peda. Arrange them attractively in a decorative box or tray for an elegant and traditional gift option.
Selecting the Right Return Gift
In this section, we'll guide you through the process of choosing the best Return gifts for housewarming, keeping your budget and theme in mind.
Consider the Budget
First and foremost, you need to determine your budget for return gifts. It's crucial to strike a balance between being thoughtful and staying within your financial limits. Fortunately, a wide variety of options cater to different budgets, allowing you to find gifts that are both functional and affordable. Here are some budget-friendly ideas:
Aromatherapy scented candles
Decorative tea light candles
Small planters with succulents
Don't forget that it's the thought that counts and even a modest gift can make a significant impression when chosen with care.
Match the Gift to the Theme
Once you've established your budget, it's time to consider the overall theme of your housewarming party. Aligning your return gifts with the theme adds cohesion and thoughtfulness to your event. For example, if you've opted for an eco-friendly celebration, you can choose to return gifts that promote sustainability, such as reusable grocery bags or reusable straws. Matching the gift to the theme shows your appreciation for your guests' attendance and adds a personal touch to the keepsake.
---
FAQ
What should be a return gift?
A return gift should be a small token of appreciation or thanks given to guests after an event or party. It can be something simple and affordable, such as a personalized keychain, a small potted plant, or a homemade treat. The gift should be thoughtful and reflect the host's gratitude for the guest's attendance.
What is the 7 gift rule?
The 7 gift rule is a holiday gift-giving strategy that involves giving each recipient seven gifts: something they want, something they need, something to wear, something to read, something to play with, something to share, and something handmade. This can help simplify gift-giving and ensure a balanced and thoughtful approach.
Are house warming gifts still a thing?
Yes, housewarming gifts are still a common tradition to welcome someone to a new home. It's a thoughtful gesture to bring a small gift such as a plant, a candle, or a kitchen gadget to help the new homeowners settle in.
What to send as house warming gift?
Housewarming gifts can vary depending on the recipient's preferences and needs, but some popular options include plants, candles, kitchen gadgets, personalized doormats, and decorative items such as wall art or picture frames. A thoughtful card or note can also be a nice touch to welcome someone to their new home.
---
If you liked this blog article about the topic: Return Gifts for Housewarming: Top Choices to Wow Your Guests, don't forget to leave us a comment down below to tell us about your experience.