Ready to up your gift-giving game? We've all faced the challenge of finding the perfect gift for our film-loving friends, whether they're new to the film world or seasoned pros.
But fear not, my friend! I'm here to be your guide on this quest. I've scoured the film universe to curate a list that's both exciting and practical.
From gadgets that'll enhance their film experience to gear that's sure to earn your applause, I've got you covered. So, join me on this journey through the ultimate gift guide
Gifts for Film Students
Film students, filmmakers, and the entire world of cinema can sometimes feel like uncharted territory. Despite your love for movies and TV shows, the intricacies of the film industry remain unfamiliar. So, how do you pick the perfect gift for film students?
That's where this article comes in. Here, you'll find a handpicked selection of my favorite gift ideas tailored specifically for film students:
Film Slate Clapperboard: A classic clapperboard for use in their film projects, adding an authentic touch.
Professional Film Editing Software: High-quality video editing software like Adobe Premiere Pro or Final Cut Pro.
Storyboard Notebook: A specialized notebook designed for sketching and planning film scenes.
Soundproofing Panels: Acoustic panels to create a better audio recording environment.
Custom Movie Poster: Design a custom movie poster featuring their own film project. (My favorite!)
External Hard Drive: A high-capacity external hard drive for storing video footage.
Understanding Film Students
One of the most important things to understand about film students is that they are always looking for ways to improve their skills and knowledge. They are constantly reading books, watching films, and attending workshops to learn more about the art of filmmaking. This means that gifts that can help them improve their craft are always appreciated.
Another thing to keep in mind is that film students often have tight budgets. They may be spending a lot of money on equipment, software, and other essentials, so gifts that can help them save money or make their lives easier are always welcome.
This could include things like gift cards to their favorite film supply store, a subscription to a filmmaking magazine, or a practical piece of equipment that they may not be able to afford on their own.
Finally, it's important to remember that film students are passionate about their work and take it very seriously. They are often willing to put in long hours and make sacrifices to achieve their goals.
Gifts that show that you support and believe in their dreams can be incredibly meaningful, whether it's a simple note of encouragement or a more tangible gift like a personalized director's chair.
Best Tech Gifts for Film Students
With the holidays coming up, it's the perfect time to give the film student in your life a gift that they'll truly appreciate. Here are some of the best tech gifts for film students that will help them take their filmmaking to the next level.
High-End Cameras
A high-quality camera is a must-have for any aspiring filmmaker. While there are many options on the market, the Sony A7 III is an excellent choice for film students.
It offers stunning image quality, fast autofocus, and excellent low-light performance. Plus, its compact size makes it easy to take on the go.
Professional Lighting Equipment
Good lighting is essential for creating a cinematic look. The Godox SL-60W is a budget-friendly option that provides bright, consistent light. It's perfect for lighting interviews, product shots, and small scenes.
For more advanced lighting needs, the Aputure 120D Mark II is an excellent choice. It provides powerful, color-accurate lighting that's perfect for larger sets.
Advanced Editing Software
Editing is where a film truly comes together, and the right software can make all the difference. Adobe Premiere Pro is an industry-standard editing software that offers a wide range of features. It's perfect for film students who want to take their editing to the next level.
For those on a budget, DaVinci Resolve is a free editing software that offers many of the same features as Premiere Pro.
Pro Tip: When buying gifts for film students, consider their specific needs and interests. Do they need a new camera? Lighting equipment? Editing software? By tailoring your gift to their needs, you'll ensure that they get the most out of it.
Creative Gifts for Film Students
I have found that a high-quality camera backpack is always a good choice as a gift for film students. It not only protects your gear but also makes it easy to transport from one location to another.
I recommend checking out the Lowepro ProTactic BP 450 AW II, which has customizable interior dividers and a built-in all-weather cover.
Another great gift idea is a subscription to a streaming service like Criterion Channel. This service offers a curated selection of classic and contemporary films, as well as special features and commentary from filmmakers and critics.
For film students who are interested in screenwriting, a subscription to Final Draft is a must-have. This software is the industry standard for screenwriting and includes helpful features like automatic formatting and revision tracking.
If you're looking for a more affordable gift option, consider a set of color gels for lighting. These gels can be used to adjust the color temperature of your lights, creating a more professional-looking image.
My Advice: When shopping for gifts for film students, consider their specific interests and needs. If they are interested in documentary filmmaking, for example, a subscription to Docuseek might be a better fit than a subscription to Criterion Channel.
Practical Gifts for Film Students
Portable Hard Drives
One of the most essential tools for a film student is a portable hard drive. With the amount of footage and data that needs to be stored, having a reliable and spacious hard drive is crucial.
I personally recommend the Seagate Expansion Portable External Hard Drive, which offers up to 2TB of storage space and is compatible with both Mac and Windows computers.
High-Quality Headphones
Sound is just as important as visuals in film, and having a good pair of headphones can make all the difference. A great option for film students is the Audio-Technica ATH-M50x Professional Studio Monitor Headphones, which are known for their exceptional sound quality and durability.
Subscription to Film Magazines
Staying up-to-date with the latest trends and techniques in the film industry is crucial for any aspiring filmmaker. A subscription to a film magazine such as American Cinematographer or Film Comment can provide valuable insights and inspiration.
These are just a few practical gifts for film students that can help them on their cinematic journey.
Pro Tip: consider bundling these gifts together into a gift basket for a truly thoughtful and practical present.
Personalized Gifts for Film Students
Here are some great personalized gifts for film students that are sure to make them feel special:
Personalized Filmmaker's Keychain: A keychain that says "I'd Rather Be Filming" or "Filmmaker" with their name on it is a great way to show your support for their passion.
Customized Director's Chair: A director's chair with their name on it is a great way to make them feel like a pro on set.
Personalized Clapperboard: A clapperboard with their name on it is a great way to make them feel like a part of the crew.
Customized Camera Strap: A camera strap with their name or initials on it is a great way to show off their style while shooting.
Personalized Film Reel: A film reel with their name on it is a great way to commemorate their hard work.
Remember: If you're not sure what to personalize, consider getting them a gift card to a store that specializes in film gear, like B&H Photo Video or Adorama. That way they can choose what they want and personalize it themselves.
Gifts for Film Students: The Essentials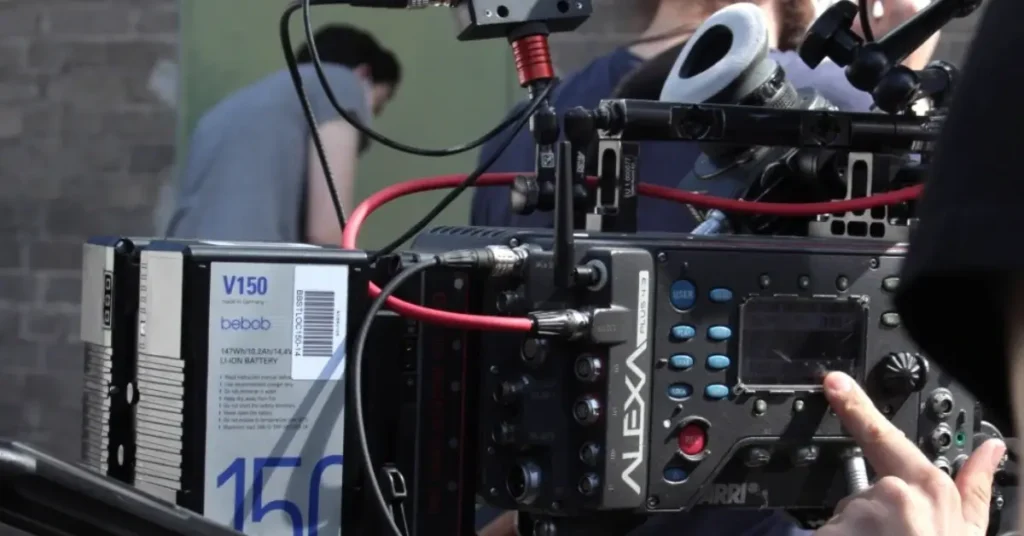 Camera Gear
One of the most important things for any filmmaker is having the right camera gear. A high-quality camera can make all the difference in the final product.
Consider getting a camera stabilizer or tripod to help with shaky shots. A good microphone is also essential for capturing high-quality audio.
Books
There are countless books on the subject of filmmaking, and any film student would appreciate having a few in their collection. Look for books on screenwriting, cinematography, or directing. Some popular titles include "Save the Cat" by Blake Snyder, "In the Blink of an Eye" by Walter Murch, and "Rebel Without a Crew" by Robert Rodriguez.
Software
Editing software is a must-have for any filmmaker. Adobe Premiere Pro and Final Cut Pro are both popular options, but there are also free alternatives like DaVinci Resolve. Consider getting a subscription to a stock footage website like Shutterstock or Pond5 to help with editing.
Film Festival Passes
Attending film festivals is a great way for film students to network and gain exposure. Consider getting a pass to a local film festival or a subscription to a streaming service like Sundance Now.
Gift Cards
If you're not sure what to get, consider a gift card to a camera store, bookstore, or streaming service. This allows the film student to choose exactly what they need for their specific projects.
FAQ
What is a good gift for people studying film?
A good gift for film students can be high-quality film editing software, a book on cinematic techniques, or a subscription to a streaming service for access to a wide range of films to study and enjoy.
What do you do as a film student?
Film students engage in various activities, including learning film production techniques, scriptwriting, cinematography, editing, and film history. They often work on film projects, analyze movies, and gain hands-on experience to develop their filmmaking skills.
How to raise money for a student film?
To raise money for a student film, consider crowdfunding platforms, seek sponsorships from local businesses, apply for grants and scholarships, organize fundraisers, and leverage social media to reach a wider audience for donations and support.
Is film study a career?
Film study itself is not a career but serves as a foundation for various careers in the film industry. Graduates can pursue careers in filmmaking, production, directing, screenwriting, cinematography, editing, and more, making film study a pathway to these professions.
---
If you liked this blog article about the topic: Gifts For Film Students, don't forget to leave us a comment down below to tell us about your experience.